KEYWORDS
The keywords that RANDY can recognize and respond to vary depending on the phone number and account you are texting RANDY at. For this trial conversation, you will be texting RANDY at the wireless number: 213-320-6130. Below are the 25 keywords you can use to engage this RANDY trial wireless number:
RANDY
HELLO
FREE TRIAL
TEXTER
ASSISTANT
NEGOTIATOR
CONCIERGE
VOICE
FULL ACCOUNT
PRICING
EXAMPLES
SIGNUP
ABOUT
AGENCY
AUTOS
HOMES
JOBS
BIZ
GOV
ORG
COVID19
CORONAVIRUS
KEY
KEYWORDS
MORE
---
SENTENCES

RANDY understands full sentences.
You can converse with RANDY in full sentences using any combination of the keywords. (NOTE: available keywords vary per RANDY wireless number.). Your sentence, per single text, can be up to 140 characters long. NOTE: If your sentence is longer than 140 characters, it may be rejected by the wireless network company and may never reach RANDY. Therefore, you may not get a response back from RANDY. Keywords are prioritized, so RANDY's answers may be based on the first keyword recognized in your sentence. For best results, limit each sentence to a few keywords or a single keyword.
Example sentences you can text to RANDY:
Is this business open today?
Have this business call me.
I want to buy a new car.
Show me used cars.
Contact me.
Email me.
Hello.
Service.
Keywords.
Thank you.
I have a question.
---
HANDS-FREE

How to engage RANDY hands-free using only your voice:
You can use SIRI (on Apple devices), GOOGLE Assistant (on Android devices), BIXBY (on SAMSUNG devices), CORTANA (on Microsoft devices), and ALEXA (on AMAZON devices) to engage RANDY hands-free using only your voice.
Engage the correct phone number for RANDY:
Ask your device (e.g. SIRI) to text a number or you can, yourself, manually text to the RANDY number you want to engage (e.g. Text ''HELLO RANDY'' to ''213-320-6130'').
Create a RANDY contact in your device:
Then SAVE the number as a new contact in your device. For First Name, enter RANDY. You can leave the Last Name blank or type in any word that can differentiate other Randy names in your contacts. For example: Last name = Assistant.
You can now engage RANDY hands-free:
Ask your device to text RANDY. (e.g. ''Hey SIRI, text RANDY.'').
Your device will ask you what to say to RANDY.
For example, SIRI may ask: ''What do you want to say to RANDY?''
State your Message or Question to RANDY:
For example: ''Hello RANDY.'', ''I have a questions.'', ''Is this business open today?''
Your device may confirm to SEND the message.
For example, SIRI may aks you: ''Are you ready to send it?''
SEND the message:
Say ''YES'' or ''SEND'' and your device will then send your message to RANDY.
RANDY will reply in a few seconds:
You will get a message back from RANDY in response to your last text. NOTE: If your sentence is longer than 140 characters, it may be rejected by the wireless network company and may never reach RANDY.
Ask your device to read your text messages.
For example, ''Hey SIRI, read my messages.''
Your device reads RANDY's message to you:After your device reads the message, it may ask if you wish to reply.
Repeat steps 3 to 10 for as long as you wish to keep engaged with RANDY.
Legal Clarity: RANDY Does Not Send Unwanted Message.
Any user (consumer) or account (business) found to abuse RANDY and/or engage in spamming and sending unwanted messages, will be terminated from the RANDY network.
RANDY only engages you when YOU engage RANDY. So to end a conversation with RANDY, simply don't reply to the last text received from RANDY. For privacy purposes, RANDY will never re-engage you unless you had scheduled a RANDY reminder in a previous conversation. However, YOU can re-engage RANDY whenever you want, 24/7, at any phone number (long-code or short-code) that is RANDY-enabled. Each business has its own dedicated local RANDY wireless number where you can engage the business.
RANDY is a multi-conversationalist:
You can engage RANDY simultaneously at multiple phone numbers for different or similar conversations. For example, you may be dealing with 10 different businesses all using RANDY Assistant from different numbers. You can engage RANDY privately at all 10 phone numbers and RANDY will engage each conversation separately -- this is similar to texting 10 friends at 10 different numbers from your 1 device (your 1 unique number).



Please use RANDY responsibly.

###
---
STAND FOR SMALL:
EVOLVE and THRIVE
with RANDY Assistant
Enjoy a 90% Price Discount
At ROGEE®, we stand for small business. We understand the needs of small businesses because we, ROGEE, Inc., are also a small business. In solidarity with the American Express ''STAND FOR SMALL'' project, we are offering our proprietary RANDY® Artificial Intelligence Virtual Assistant software to all America's small businesses at a 90% price discount during the COVID-19 response.

For only $25 per month, your small business gets a unique, exclusive, and local RANDY Number, a 10-digit wireless mobile phone number, where your customers can engage RANDY through SMS and MMS texting. RANDY Assistant can handle all mundane customer Questions and Answers; and RANDY can also get some Customer Service Processes (CSP) done for you, automatically.

This offer is valid until:
December 31, 2020
11:59:59 PM, Pacific.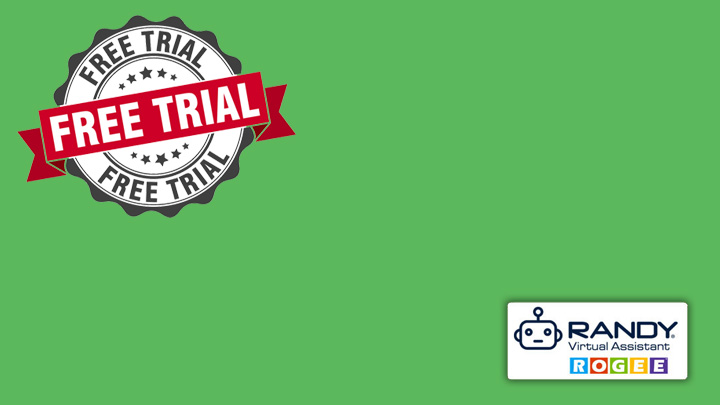 RANDY Assistant
Hello. I am RANDY Assistant. I am ready to join your small business winning team.
RANDY® by ROGEE® is an Artificial Intelligence Virtual Assistant Internet-based conversation platform that helps businesses, organizations, municipalities, and agencies provide fast, accurate, timely answers to users' inquiries. RANDY® Assistant communicates with people, 24/7, through Wireless Messaging technology using multimedia Texting (language, image, audio, video) on any smart device (phone, watch, tablet, laptop, desktop, or computer console).

RANDY® Assistant helps to reduce the cost of customer interactions (for businesses and organizations) and the cost of citizenry engagement (for municipalities and agencies) with wireless messaging. Using SMS and MMS technology (texting, images, audio, and videos files), RANDY® Assistant can handle all mundane and repetitive customer interactions and processes.

ROGEE®, Inc. is a California-based privately-held corporation founded in 1996 by Rogee Rogers (its current CEO/President/Chief Software Architect). ROGEE, Inc. serves businesses of all sizes with technology, software, marketing, training, and other business-related solutions.